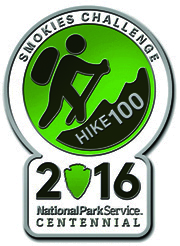 Program Overview
This year we are celebrating the Centennial of the National Park Service. To honor the first 100 years of the National Park Service and launch into the next century, the Park Superintendent has committed to hiking 100 miles of park trails during 2016 -- and he invites you to join in on this challenge!
Whether you are new to hiking in the Smokies or have seen most or all the trails in the park before, we encourage you to set a goal of reaching 100 miles during this special year of celebration, between January 1-December 6, 2016. You may hike any 100 miles of maintained trails in the park. Your miles can include everything from front country nature trails to the extensive trail network in the backcountry. You may hike the same trail repeatedly or different trails; and you may hike them solo, with a group or even with a guide. The goal is to inspire you to explore and enjoy the many benefits the park has to offer.
More information.
Explore the park website for information about
hiking safety
,
trail recommendations
,
weather
,
road and trail closures
, and the park's
trail map
. If you plan to include overnight trips in your hiking plan, be sure to
obtain a reservation and permit for all overnight stays
in the backcountry.
When you are ready to take on this challenge, plan your hikes and get out on a trail! Download a
mileage log
that you may use to keep track of your miles. Or, you can purchase one from the Great Smoky Mountains Association
here
for $1.00.
After you have hiked 100 miles this year, send an
email
to let us know! You will then receive information about the Hike 100 Celebration on Thursday, December 8, 2016 to receive your commemorative "Smokies Centennial Challenge - Hike 100" pin!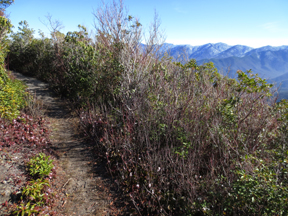 Sample 100 Mile Hike Plan
Gatlinburg Trail - 4 miles
Little River & Cucumber Gap Trails Loop - 6 miles
Chimney Tops Trail - 4 miles
Porters Creek Trail - 8 miles
Ramsay Cascades - 8 miles
Abrams Falls Trail to the Falls - 6 miles
Gregory Bald Trail to the Bald - 9 miles
Trillium Gap Trail to Grotto Falls - 3 miles
Laurel Falls Trail - 3 miles
Forney Ridge Trail to Andrews Bald - 5 miles
Big Creek Trail to Mouse Creek Falls - 5 miles
Smokemont Loop Trail - 7 miles
Noland Divide to Lonesome Pine Overloop - 7 miles
Deep Creek & Sunkota Ridge Loop - 13 miles
Cataloochee Divide Trail - 10 miles
Oconaluftee River Trail - 3 miles
Any 100 miles count! Superintendent Cash's 100 Mile Plan is subject to change due to all kinds of factors - like weather, trail conditions, and fitness level of those who hike with him. The important part is that the miles he will cover by the end of the year will be 100.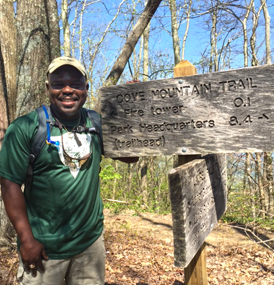 Hike Events with the Superintendent
In the spirit of the Centennial, many of Superintendent Cash's hikes will be with youth who may be experiencing their first such adventure in the park. There are also public events which will give you the opportunity to hike alongside the Superintendent. These include two front country hikes that are open to anyone who would like to attend and two backcountry hikes which are each limited to 20 hikers. This limit is
due to our concern for the resources in the backountry, our attention to Leave No Trace and hiker safety. To reserve a space on one of these backcounty hikes, send us an email and we will contact you with further information.


Front country Hikes, Open to Everyone
:
Saturday, August 20, 2016 - Gatlinburg Trail
Saturday, December 3, 2016 - Oconaluftee River Trail
* Check back for more details about these hikes *
Backcountry Hikes, Limited to a maximum of 20 hikers each:
Saturday, June 25, 2016 - a trail in North Carolina
Saturday, October 8, 2016 - a trail in Tennessee
*
Email
us if you are interested in a spot *
Latest Trail Adventures
Check here throughout the year to see pictures and read about some of the latest trails that Superintendent Cash has explored. You might see something you will want to add to your list!
Share your thoughts
We welcome you to share your comments and reflections about your hiking experiences as you cover your 100 miles. Email your thoughts to Superintendent Cash and he will reply to some of your messages throughout the year. You can also share you photos and reflections on Facebook at www.facebook.com/GreatSmokyMountainsNPS in the "visitor posts" section and/or on your own Facebook, Twitter or Instagram accounts and tag it with #Hike100.